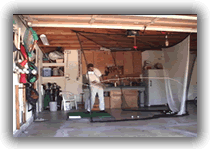 click on image to enlarge photo

The garageGOLF Story:
GarageGOLF is a way to improve your game with out costing a fortune and in a short amount of time. I started golfing in the fall of 1990 with a family, full time job, and little time for anything else, much less the game of golf. As it can, golf became a passion and a great way to have some fun. Being a person who loves athletic competition, I needed to find a way to improve my game and I did not want to wait years. I improved in the comfort of my garage.
I started hitting balls in my backyard into a stand-up net which had no protection on the sides. When I hit errant shots, the net was not sufficient to restrain the balls. I also had no control over weather conditions and did not want to spend time in the rain or hot sun while practicing. In my garage, I started designing a net that would keep errant shots from hitting the walls and ceiling. In this way I improved my swing and ball striking with what little time I had. The net allowed regular training, and along with golf instruction, in 15 months I progressed to a 2 handicap from shooting in the 100ís.
I cannot guarantee the same results to everyone who wishes to lower their handicap, but I am confident SportNET will help all those who are trying to improve their golf swing. I also used practice facilities for short game practice and a range when I needed to check my ball flight. The majority of my practice took place in the garage, some nights hitting for hours. This not only provided a way to practice when time was an issue, but also a place to warm up before playing a round of golf. Regular training using SportNET is great for keeping your back and golf muscles stretched and conditioned for the golf swing.
Hitting into a net will not replace a golf course, which is the one of the better places to practice. With SportNET, golfers who wish to improve and do not have the time to practice at a golf course can now practice at the place of your choice, at a time when it is convenient. A trip to the garage is only a few steps away!
Roger A. Stephens
Founder garageGOLF
It's a lot of fun to play well !