GarageGOLF.com has partnered with providers of golf practice equipment to be a one-stop resource for golf practice needs. Our Web Site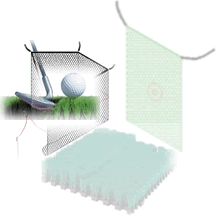 will provide a resource of golf practice equipment to enhance your swing. We will continually work to enhance our store with products we feel will improve your game.
If you have some suggesting or would like to sell something on our site contact us... we want to here from you!
Our price is the same as those you'll find with our suppliers... we make no mark-ups for the service we provide.
Check out our Golf Discussion Forum if you have a swing question.