SportNET, our No. 1 product, built to last !
"Sorry site has been dormant since the year 2002"

Made from materials not found in the store bought nets. It's patented design keep ball contained, and the durable Impact Net stops ball and lays it safely on the ground. The inner Impact Net also keeps safety net from wearing out. "Minyi"

Owner:
Roger Stephens
5320 Nyoda Way
Carmichael, CA. 95608
US Phone (916) 871-5412
email: ras@dodgersweb.com


Register in our Guestbook
We want to here your comments.

Recieve a free golf lesson on the Grip when you register in our guest book.
You can also link your site to ours when you register.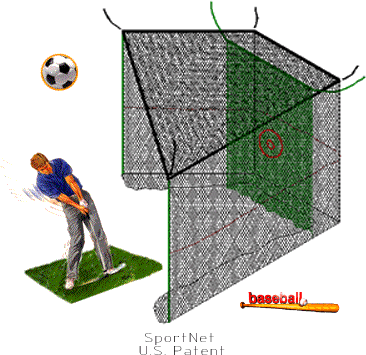 SportNET has 10 years of testing in a garage. The original Impact Net is still in use today. You can save thousands of dollars in range balls and a lot of time by training with SportNET. A good golf swing requires repetition, and SportNET can help.


GarageGOLF now accepts PayPal, Master Card, and Visa
for all e-commerce transaction. Click Here to see how to
sign up for Pay Pal.

PayPal provides the world's first instant and secure online payment service. With PayPal, individuals and businesses can send and receive payments through the Internet. This revolutionary new service provides a safer, faster, easier, and cheaper way to move money in today's digital economy.
With a customer base of more than 10 million and continuing to grow rapidly, PayPal is the world's largest Internet-based payment network. PayPal is the (#1) eFinance site on the Internet, according to PC Data Online, and one of the fastest growing web sites, according to Media Metrix. PayPal now constitutes over 10% of all Internet traffic in the financial services category, more than Citibank, Wells Fargo and Bank of America combined.


We offer in the Sacramento Region a comprehensive teaching program for Golf based on the Pre-Swing and In-Swing fundamentals. We also used the latest in computer techonology for analysis of your swing.
Our Digital Swing Analysis can show you the problems and visualize what needs to be done to correct them. GarageGOLF prides itself in customer satisfaction and will work hard to improve your game. Call to speak with Roger Stephens now at (916) 871-5412